The Half Dome Hike in Yosemite National Park is one of the most iconic sights in the world. Standing almost 9,000 feet in elevation, it was once thought to be inaccessible until George Anderson paved the way in 1875 as the first person to reach the summit. Today, many hikers enjoy this incredible adventure every year.
If you are planning a trip to Yosemite National Park, here is everything you need to know about hiking to Half Dome. As this hike is about 17 miles round-trip, preparation is very important for an outdoors adventure of this magnitude.
You can do this trek as a day hike, or you may choose to take your time by backpacking on the way up. For the purposes of this article, I will mainly focus on summiting Half Dome as a day hike.
Here are the details we will be discussing:
1. Basic Facts – all the nitty gritty things you will want to know.
2. First Things You Need to Do
3. How to Get a Permit for the Cables
4. Itinerary
5. Best Time to Go
6. Frequently Asked Questions
7. The Gear You Will Need
8. Packing List
9. Safety Tips
10. Training Tips
This article is all about the Half Dome Hike in Yosemite National Park.
The following content may contain affiliate links. When you make a purchase using these links, I receive a commission at no extra cost to you. Thank you for supporting this website.
I. BASIC FACTS
–Location of Half Dome:
Half Dome is located in Yosemite National Park in California, USA.
–Elevation:
8,842 feet
–Elevation Gain:
4,800 feet
–Distance:
17 miles round-trip
–Pets Allowed:
No (Dogs are not allowed on any trail in Yosemite.)
–Reservations:
Yes, you need a permit to summit the cables portion of Half Dome. You also need a reservation to enter Yosemite.
–Sources of Water:
You may be able to get some water from the Merced River, however there are not many available water refill options. Be sure to have a water filter if you drink from the river.
–Where to Park Your Car:
Park at Curry Village but you need to arrive early before spaces fill up.
–Where to Start the Hike:
Begin the hike near the Happy Isles Bridge to the John Muir Trail.
–Season:
The hike to the sub-dome is technically open all year, however the cables section at the top of the Dome is seasonal from the Friday before the last Monday in May (Memorial Day) and come down the day after the second Monday in October (Columbus Day). These dates are subject to change based on conditions.
II. THE FIRST THING YOU NEED TO DO:
Apply for your Half Dome permit.
The Half Dome summit requires a permit to advance to the cables. Before you embark on this epic journey, make sure you secure this permit. I don't suggest trying to sneak your way to the cables. A park ranger sits at the base of the sub-dome checking permits. I suggest printing your permit or taking a screenshot of it on your phone because the cell service is unreliable in the park as it is very remote.
Get your reservation for the park.
A reservation is required to enter Yosemite National Park. Make sure you go to the National Park website and get this done in advance. However, if you secure a Half Dome permit, you do not need to get a reservation in the park per the National Park Service. If you don't get the permit, you will still need your park reservation and then apply for the Half Dome daily lottery.
Apply for the daily lottery.
The lottery for a Half Dome permit, that is! This applies to you if you did not get a Half Dome permit. Personally, I was not approved for the Half Dome permit. This was very disheartening, but my sister and I decided to apply for the lottery and take our chances. We won the lottery and got to do the hike! However, this is not a sure thing. Have a "Plan B" for your itinerary just in case.
Get your wilderness permit.
This is only if you plan on backpacking. You need a permit to camp in Little Yosemite Valley along the way to Half Dome. As the entire hike in itself is about 17 miles, you may choose to camp overnight and break up the long walking.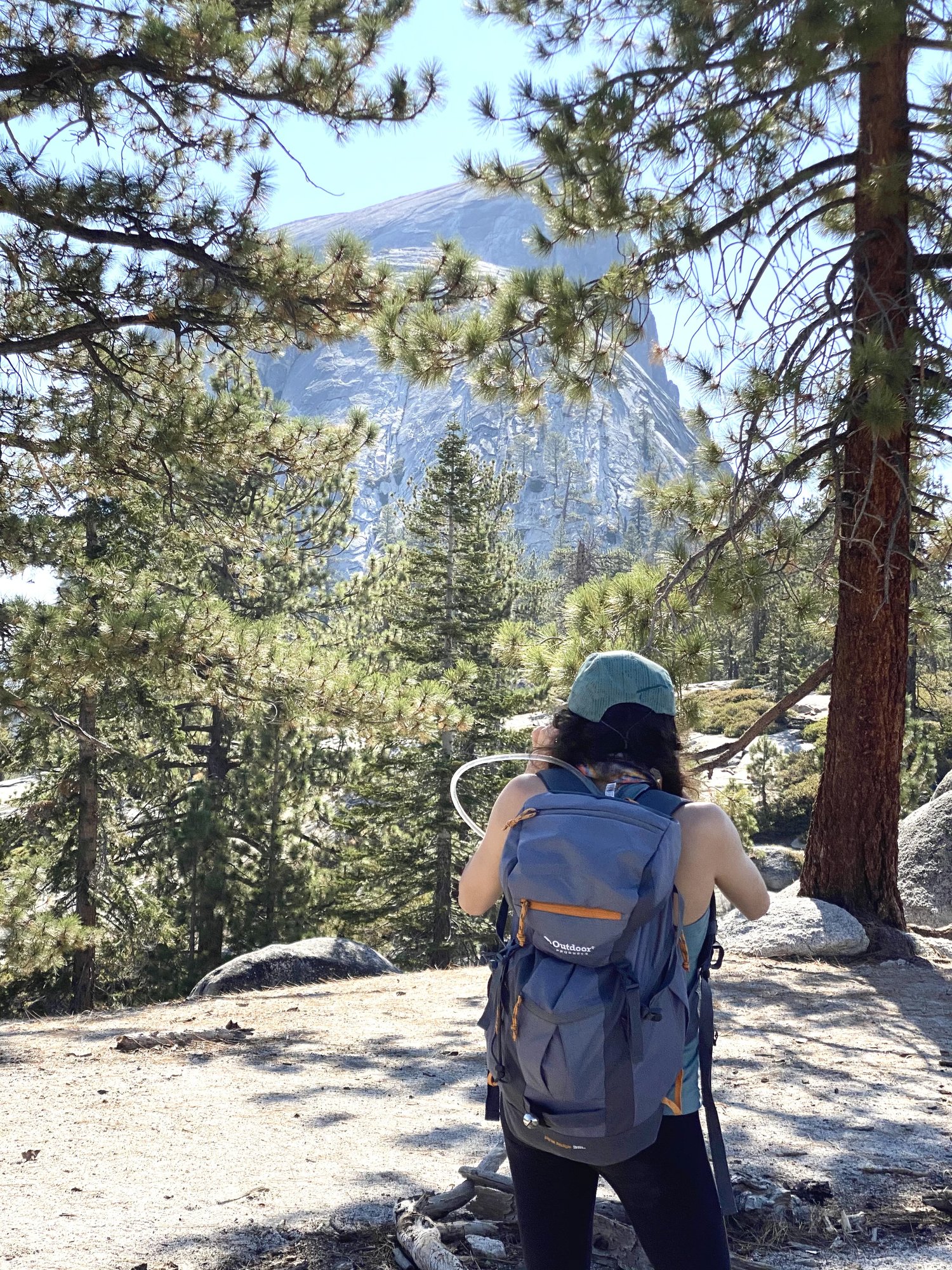 III. HOW TO GET A PERMIT FOR THE CABLES
For day hikers, you can get a Half Dome permit through the lottery system. A maximum of 300 hikers are allowed per day beyond the base of the sub-dome to prevent overcrowding.
Pre-season lottery applications begin on March 1 and run until March 31.
You can apply for the pre-season lottery on Recreation.gov. There is a $10 fee to submit your application. You will also be charged $10 per person when you receive the permit.
A Half Dome permit does not allow for camping before, during, or after your hike. For camping, you need to apply to a separate wilderness permit.
Another way to get a permit is through the daily lottery. If you don't win a pre-season lottery permit, you can apply for the daily lottery two days prior to your hiking date. (This is what my sister and I did.)
You might get lucky and win the permit. It all depends on how many permits are canceled or not being used that day. You are more likely to win the daily lottery on a weekday than a weekend.
IV. ITINERARY:
Although my time on the Half Dome trail did not go exactly like this, I learned a lot and I will have my plan in the future as follows:
First, I would book a place to stay at Curry Village to save time in the morning.
However, if you can't secure a spot at the Curry Village and you stay at a hotel nearby that is ok too. You will just need to wake up earlier.
Be at the Curry Village at 5:30 AM at least so you can walk to the John Muir/Mist Trail near the Happy Isles Bridge.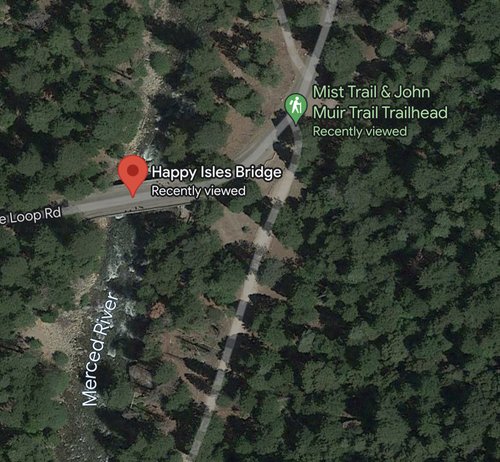 The trail to Half Dome is actually a connection of hikes. You will start at the John Muir trail, connect to the Mist trail, and then back to the John Muir trail. From there you will find the Half Dome trail. Reverse these steps on the way back down. I suggest bringing a map with you. Maps are usually available from the park rangers at the entrance booths, or can print one here.
Have a non-negotiable turn around time. For us, that time was 3:30 PM. We still made it to the Dome in time. You need to have a plan for getting back down since you will most likely be hiking in the dark.
V. BEST TIME TO GO
When is the best day to go?
As stated previously, Half Dome has a season when the cables are up. This usually lasts from Memorial Day Weekend to Columbus Day Weekend. These dates are subject to change based on conditions.
We hiked in September and the weather was perfectly not too hot or too cold. You may also have an easier time getting a Half Dome permit in September than during the summer. Furthermore, you are more likely to get a permit on a weekday instead of a weekend.
Check the weather before attempting this hike. Do not try the ascent if there are storm clouds or if it is raining as that will make the rock slick. Don't risk it.
What time of day is the best to start your hike?
It is best to start at sunrise or even sooner as this hike takes most people 10-12 hours. Check for sunrise and sunset times beforehand. It is smart to have a set turnaround time that you do not compromise. For example, if you do not reach the summit by 3:30 PM, turn around and head back. Make sure you bring a headlamp or flashlight as it will likely be dark before you get back. From experience, this is a dark, remote area and you will need a light.
VI. FREQUENTLY ASKED QUESTIONS
How long does it take to hike Half Dome?
On average, it takes 10-12 hours. For my sister and I, we did it in about 16 hours as we took frequent water breaks and stopped to take pictures. We started at about 6:30 AM. If I did it over again, I would have started as early as 5:00 AM to make sure we have plenty of sunlight to go up and down the trail. Like I said, don't forget your headlamp because it will be dark on the way down from the hike. If you don't have light, you may find yourself in a sticky situation.
Can beginners hike Half Dome?
For many, this hike is an amazing experience, but for others this hike is more of an adventure than they wanted. Speaking from experience, this hike requires you to be fit. Half Dome is a challenging. If you are out of shape, honestly this hike is not for you. Intermediate hikers and above are recommended to attempt this hike.
Keep in mind, the Mist trail is very steep and basically uphill for three straight miles. You will get tired and worn out if you are not conditioned. Getting to the top of the Half Dome summit is only half the battle. You will still have to turn around and hike 7-8 miles back down.
Not physically ready to attempt Half Dome? That is ok too. There are lots of things to see along the John Muir and Mist trails that beginners may enjoy. The Vernon Falls along the Mist trail is one of the more attainable attractions, as it is three miles up and three miles back. More experienced hikers are encouraged to hike past the falls.
Is Half Dome a scary hike?
There have been few deaths from the Half Dome cables ever since its first ascent back in the 1800s. That being said, injuries occur every year due to people acting recklessly. Hike smart and use common sense.
Further, I would be lying if I said Half Dome was not scary. There are parts with steep rock at high altitude where you must be careful.
Move slowly, take breaks, and know your limits. As long as you use caution, you should be ok. Do not attempt the ascent on stormy days or if the ground is wet, as this increases your risk of slipping and falling on the slick rock.
If you are afraid of heights, this hike is probably not for you.
Do I need to train for Half Dome?
Yes, you need to be physically prepared for one of the most strenuous hikes in the USA. Do not do this hike if you are unconditioned for long day-hikes or trekking. This hike is 17 miles round-trip, and it is climbing uphill most of the way to the summit.
VII. GEAR YOU NEED
1. TREKKING POLES
As the terrain on the trail can be tricky, trekking poles can help stabilize your balance.
We did not use trekking poles when we hiked to Half Dome, but I wish I did. They act as another set of limbs and help take stress off of your joints.
As a result of the hike, my knee joints ached for about 3 weeks afterwards. I believe trekking poles would have alleviated some pressure on my knees, especially on the way back down from the Dome.
The granite on the Dome can be very scary, and trekking poles may help you feel more balanced.
2. HIKING BOOTS OR SHOES
The above shoes are the exact hiking boots I used. The granite on the Dome is very slick, so you will need shoes with good traction. You can get by with any fresh pair of hiking boots, but do not wear regular, worn-down, tennis shoes. Anything with rubber traction would be much better.
3. HIKING BACK PACK
Invest in an ergonomic back pack. I advise against using your old high school book bag, since in my experience, it caused so much aching. Your neck and shoulders will thank you if you use a good pack with a waist strap. I recommend getting advice from a local REI or outdoors store for selecting the pack that best suits your body frame.
VIII. PACKING LIST
1. WATER AND PLENTY OF IT
Water is essential for any hike. In my experience, this water reservoir makes carrying water much easier. In general, in good weather conditions, you should have a half liter of water per hour of hiking.
That means for 12 hours of hiking, you will need 6 liters of water. The NPS recommends a minimum of 4 liters for the Half Dome hike.
A water bladder makes it possible to drink while walking so you don't even have to stop to take a sip. It fits into most hiking backpacks as well.
When it comes to water, I suggest packing more than you think you will need. Keep in mind, the more you drink, the lighter your pack becomes!
2. SNACKS
How much food should you take on a day hike to Half Dome? According to REI, a reasonable goal for any hike is about one to two pounds of food.
When deciding on how much is too little or too much to carry, err on the side of bringing a little more.
Remember you will be in the bear country so store all food and odorous items such garbage in sealed bags or in airtight containers.
3. BELL OR PORTABLE SPEAKER
To avoid bears, it is best to make noise while hiking in order to make yourself known. "Advertise" your presence by wearing bells, singing, clapping, etc.
If you prefer to listen to music, you could bring a portable speaker. Just be respectful of any hikers around you. Hiking etiquette typically entails not playing music around others.
4. HAT, SUNGLASSES, SUNSCREEN
Out in the sun, you will need to be prepared. Don't forget to wear sunscreen to protect yourself from sunburn with a hat.
5. FIRST AID KIT
Just in case you need medical attention, it is wise to carry first aid supplies with you. It is better to have a basic medical bag and not need it than to need it and not have it.
6. CAMERA
Don't forget to document your experience! A GoPro is a great option if you want to get high quality photos all while carrying a small piece of tech.
7. HEADLAMP
This item is essential for hiking Half Dome. As this hike takes all day, you need this. It promotes your safety so you spot uneven terrain or even animals. Make sure to have fresh batteries.
8. GLOVES
Once you reach the cables, you will need gardening gloves or something with grip. Although you are likely to find some nice people who will give you their old ones (like I did) its nice to have your own.
9. SOLAR POWERED CHARGING BANK
As you will be on the trail the entire day, your phone and camera will likely die. While some people love unplugging from their digital lives, I personally like to take pictures and have my cell phone charged in case of emergency.
10. CANDY
Some candy will give you some sugar to keep your glucose up. You will burn a lot of glycogen. My favorite hiking candy is Swedish Fish.
11. ELECTROLYTES
You're gonna be sweating a lot. It's so important to take good care of yourself by replenishing your electrolytes in addition to drinking plenty of water.
12. WATER FILTER
Although I did not bring one for my day hike, this would be a good idea in case you run out of water. You can get water from the Merced River in the Little Yosemite Valley but you should not drink it untreated. Always use the filter before drinking from the river in Yosemite.
IX. HOW TO STAY SAFE ON THE TRAIL
Train for it
This hike will test your limits. Be as prepared as possible before you go.
Don't go near the waterfalls
We saw signs that said "No Swimming" near most of the waterfalls. Unfortunately, there have been deaths in the park when people went swimming. My advice is don't risk it. You can't assume you won't be swept away by the water.
Know your limits
Take breaks as needed. If you're short on time, energy, or water, consider turning around.
Hike safely
This is bear country. Walk in groups. Do not allow children to run or get ahead. Make noise to make your presence known to bears. Bears do not like to be surprised by humans.
Wear sturdy shoes
Hiking boots are recommended with good, rubber, grip are recommended. The granite on the Dome is very slick and the terrain on the journey ranges from uneven and rocky to flat.
Leave no trace
Pack it in, pack it out. Do everything you can to minimize human impact on the landscape. Carry all trash with you from your hike.
X. TRAINING FOR THE HALF DOME HIKE
Hiking Half Dome is much more enjoyable if you are physically prepared for it. It is a good idea to start training three to five months in advance. I suggest building up your weekly mileage to 14 miles. Slowly increase you elevation gain as well.
If don't live somewhere where you can walk hilly paths, try working out on the stair master at a gym, or walk up the stairs many times at your apartment building!
Not to mention, little things make a big difference. Opt to take the stairs over the elevator when you have the choice. Over the course of time, this will help you be more accustomed to climbing altitude on your hike.
It's a good idea to get used to carrying your backpack as well. Take your back pack with you on your walks and fill it up with weights or water.
Here is an example training plan:
Weeks 1-4: Walk 3-4 miles three times a week. Carry a 10-20 lb. pack. Aim for 700 feet elevation gain.
Weeks 5-9: Walk 5-6 miles three times a week. Carry a 20-30 lb. pack. Aim for 1000 feet elevation gain.
Weeks 9-12: Walker 6-9 miles three times a week. Carry a 30-40 lb. pack. Aim for 1500-2000 feet of elevation gain.
The above example is simply a suggestion. The main objective is to slowly increase your mileage, elevation gain, and the weight you carry. Do what feels good for your body!
This article was all about the Half Dome Hike in Yosemite National Park.
When it comes to Half Dome, preparation is key. Do you due diligence to secure a permit, as well research weather conditions. Consider what you will pack and how you will train for this epic adventure.
With the right preparation, anyone can be safe and successful on their summit to Half Dome. If you want to watch a short video documenting my experience hiking Half Dome, check it out here! Happy Trails!